Germaginaire : façonneurs d'imaginaires depuis 1919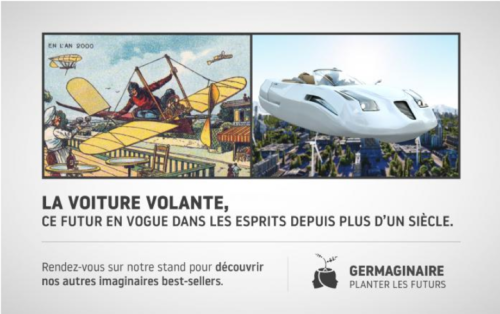 Conference
14.09.2019 – 14:00
Ancien MiN 58 Boulevard Gustave Roch – Ile de Nantes – Nantes - France
LOCATION
Event description
For better or worse, mention of the "future" gives birth in our mind to more or less clear visions, that we take the time or not to challenge. How are those future visions made? Who creates them and why? How do we nurture them? Do they confinr us? Who benefits from them?
The (fictionnal) company Germaginaire has a stand to show its "imaginary making" activity, a highly-demanded expertise, with well-proven, but discreet, mechanisms. You'lle be able to discover a sample of their leading products and their modus operandi : everything that structures, nurtures and implants an imaginary in the collective mind.
And you, what do you imagine for tomorrow?
Relation to -TRANS
The Germaginaire looks to deconstruct imaginaries: how they are thought of, for what purposes, where do they look to, and what do they say about today. Once one has the keys to decipher an imaginary, it's the moment when she can envision new ones and spread them to others. In such a way, the Germaginaire multiplies visions of the future, by putting a seed for possible future in each and everyone of its visitors.
Organizer(s)
Scopitone
Organised by Stereolux, the Scopitone Festival is an international-scale gathering dedicated to electronic cultures and the digital arts. Concerts, installations, performances, multimedia creations and festivals : Stereolux presents multi-discipline programmes with a spotlight on emerging forms and independant scenes from all five continents.
For its 18th edition, the festival will happen in the former MiN (Marché d'intérêt général) on the Île de Nantes to pay a final tribute to this emblematic place of Nantes, before its demolition in 2020. More than ever before in the festival history, this unique place allows to bring together a rich artistic scene and to make exhibition, performance and concert meet at the same place. The public will be able to stroll through various propositions, allowing for surprises and living unexpected experiences.
Design Friction
Design Friction is a design fiction studio that explores the issues related to the social, cultural and technological transformations that our societies are undergoing. We produce scenarios and speculative experiments that show and debate what tomorrow could be like to adapt our decisions today.
Question:
After this conference, can you give us a "recipe" of thought process that could help a person question their current patterns on how to apprehend the future? If the way we model our thinking is influenced and constructed by the interactions we have in our daily lives and influenced by the choices we make in a model that is growth orientated, what imaginary exercise would you recommend?
Reflection