The Speculative Literature Foundation's Deep Dish October 2019 Reading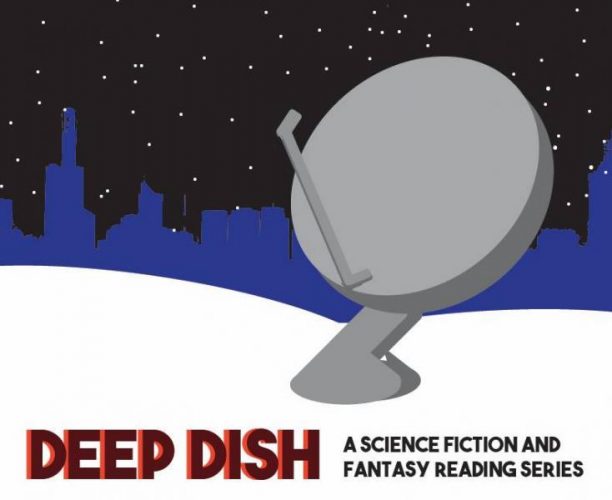 Reading Group
03.10.2019 – 19:00 -6 hours
Volumes Book Cafe, 1474 N. Milwaukee, Chicago, IL
LOCATION
Relation to TRANS-
Transcending boundaries of space, time, and imagination, we gather
together in Chicago speculative fiction authors from various
communities, each with their own unique vision of the world.
Readers: Silvia Moreno-Garcia, Jane Rosenberg Laforge, Scott Huggins,
Sue Burke, Jeremy John, and Anaea Lay. Co-hosted by Chris Bauer (Deep
Dish Coordinator) and Mary Anne Mohanra (Executive Director,
Speculative Literature Foundation.
Information on organizer (s)
Chris Bauer is the author of numerous short stories, primarily dark
fantasy and humorous science-fiction – I know, right? His work has
appeared in many anthologies, such as Damnation and Dames, Dead Seas,
Sunny With A Chance of Zombies and Abandoned Places. He is a graduate
of the Viable Paradise and Taos Toolbox workshops, a frequent beta
reader and compulsive Goodreads reviewer. He lives in Chicago with his
incredibly patient wife, two children and one strangely aloof dog.
Mary Anne Mohanraj wrote and edited Bodies in Motion(finalist for the
Asian American Book Awards), The Stars Change (Lambda & Rainbow
finalist), and thirteen other titles. Mohanraj founded Strange
Horizons, was Guest of Honor at WisCon 2010, and was recipient of a
Chicago Foundation for Women Breaking Barriers Award, and a Locus
Award for service to the field of science fiction and fantasy
literature. She is Executive Director of the Speculative Literature
Foundation and Clinical Associate Professor of English at the
University of Illinois at Chicago. Recent publications include stories
for George R.R. Martin's WildCards series and stories at Clarkesworld,
Asimov's, and Lightspeed. 2018 titles include Survivor (a SF/F
anthology, stories of trauma andsurvival) and Perennial (a breast
cancer memoir / romance); her Sri Lankan cookbook, A Feast of
Serendib, is forthcoming in March 2020. Find her at
www.maryannemohanraj.com, and support the SLF at www.speclit.org.
ALL ARE WELCOME ; FREE TO THE PUBLIC
Question:
How can speculative fiction be empowering for those who do it, read it, watch it?
Reply/Reflection/Production: